Bradgate House and the Grays of Groby
Book details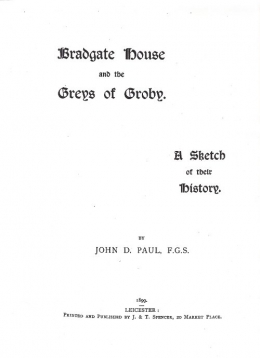 Price: £8.00
Contents

I-The Woodvilles.
II-Bradgate House.
III-The First Marquess of Dorset.
IV-The Second Marquess.
V-The Third Marquess and The Lord Thomas Seymour.
VI-Lady Jane Grey.
VII-The Marquess and the Protector.
VIII-Queen Jane.
IX-Queen Mary and Wyatt's Insurrection.
X-Death of Lady Jane and Her Father.
XI-Ladies Catherine and Mary Grey.
XII-The Earls of Stamford.