Rhyme And Reason
Book details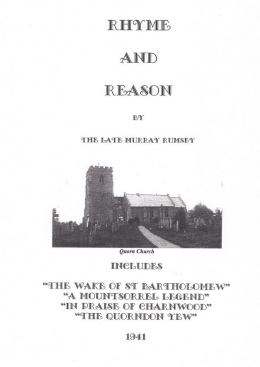 Price: £5.50
Includes

"The wake of ST Bartholomew"
"A Mountsorrel legend"
"In praise of Charnwood"
"The Quorndon Yew"

Murray Rumsey was born in Herne Hill, London in 1875 but moved to Quorn to join his brother, the Reverend Henry Rumsey, who was vicar of Quorn from 1909 to 1940. Murray Rumsey was a well-known figure and personality in the village. He had a strong tenor voice and besides writing poetry, he was a lay preacher, a local correspondent for the "Loughborough Echo" and even tried his hand at composing.

A donation from sales of this book will be made to St Bartholomews Church.

He died in 1963 aged 88 years.