Reprint: local history publishers in Loughborough, Leicestershire and the Midlands
Reprint publish original local history books for Loughborough, Leicestershire, Derbyshire, Nottinghamshire, Staffordshire and Warwickshire, with a catalogue of over 300 titles. We also reprint out-of-print and hard-to-find volumes of local interest, as well as postcards and calendars. Want to write a book of local interest? We can publish it for you.
You can order all Reprint books from this website - you can either pay online by debit or credit card or by PayPal, or you can print out an order form and post this to us with payment.
Books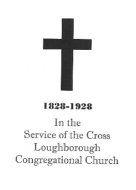 In the Service of the Cross - Loughborough Congregational Church
An in-depth history from 1828 to 1928 (the first 100 years).

Many pictures.
Gifts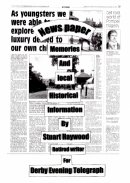 Newspaper Memories and Local Historical Information
History and Memories of Swadlincote and surrounding area many stories with 40 pages interesting news over the years with many photos.