Reprint: local history publishers in Loughborough, Leicestershire and the Midlands
Reprint publish original local history books for Loughborough, Leicestershire, Derbyshire, Nottinghamshire, Staffordshire and Warwickshire, with a catalogue of over 300 titles. We also reprint out-of-print and hard-to-find volumes of local interest, as well as postcards and calendars. Want to write a book of local interest? We can publish it for you.
You can order all Reprint books from this website - you can either pay online by debit or credit card or by PayPal, or you can print out an order form and post this to us with payment.
Gifts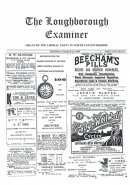 The Loughborough Examiner - Great Central Railway
Incorporating the grand opening of the new Great Central Railway's Northern Line Extension.

Stations mentioned are
Nottingham, Loughborough, Leicester.

Postage is included in the price.