A Little Red Van: Nostalgic story of one Post Office Morris Minor van
Book details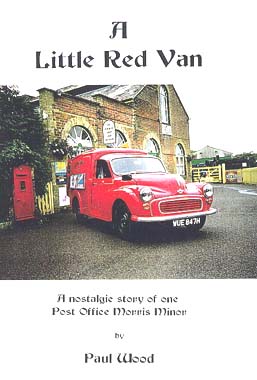 Price: £6.50
A nostalgic story of one Royal Mail Morris Minor van.

"This book is not written as a technical book on the Morris Minor 50 cubic foot mail van, nor is it an official publication of the Post Office. It has been written in a light-hearted manner, depicting the life of one of over 50,000 Morris Minor light commercial vehicles purchased by the General Post Office, between 1953 and 1971, to be used for postal work or telephone engineers' vital conveyance.

The author, although a young postman in the 1950's, progressed through promotion, as a Counter Clerk, and later logistic work in the P.O. In these employments, mostly in the South Western district of London, not a lot of contact was made with the Morris Minor.

In the 1960's, however, serving at Bathgate Head Post Office, the mail fleet consisted wholly of Minor and Anglia vans, which I was to drive on public enquiry work. I made many friends amongst the postmen drivers, especially on Christmas Day, 1967, the first Christmas Day that public offices were shut and no deliveries were made in Scotland. I was on duty in the Receiving and Sending Out Department of telegrams to the county of West Lothian. Commencing duty at 8.00am, I had at my disposal six Minor vans and drivers. Unfortunately, due to the many 'Christmas boxes' received during the day by the drivers, by early afternoon only one driver was in a fit state to drive!

The Morris Minor van was a true workhorse to the Post Office, with many design features accepted by Morris's to keep the P.O. as a customer. For example, all Minor vans have a round depression in the moulding on the inside of the offside rear door! Why? To accept the shaft for the lockable security bar fitted to postal vans until 1970. There are many more.

My thanks for assistance in writing this book go to John Barton, surviving postman driver of WUE 847H at Leamington; previous owners, such as Bob Graham of Lancaster and numerous other postmen drivers and P.O. mechanical engineers."