A Tiger's Tale
Book details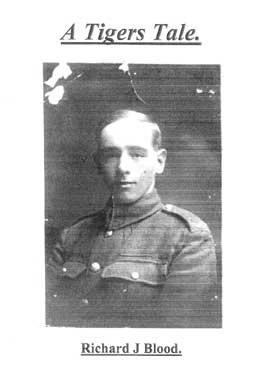 Price: £8.00
Many colour photographs - 100 pages.

It all began with the discovery of a small collection of photographs, which had belonged to my late Grandfather. Images of ordinary young men, caught up in an extraordinary situation during extraordinary times - fresh faced, young and excited at the prospect of going to war. Portraits of them posing proudly in their new uniforms, full of the kind of life and excitement that only youth can know. Then written upon them by my Grandfather's hand - "Killed in Action", the name of a far off place and a simple date. Those proud young men were gone, many of them with no known grave for their loved ones to grieve beside. They had simply disappeared, consumed by a cold angry war.

So, why this project? A story began to emerge of how, in his old age, my Grandfather would still talk with great emotion of his long lost comrades - friends he never forgot. I decided I had to do a little research.

A story unfolded that was almost beyond belief, but it was true. This book is the result and it tells the true story of those brave but ordinary young men. My Grandfather never forgot and now his memory can live on.