Did Bonnie Prince Charlie Visit Leicestershire? The Mystery of a Secret Visit
Book details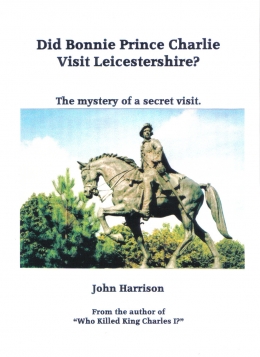 Price: £6.50
From the introduction to the book:

"According to the history books, on 6th December 1745, Bonnie Prince Charlie and his Jacobite army turned back to return to Scotland after reaching as far south as Derby in the Midlands in a desperate claim to the throne of George II.

"But we all love a good mystery don't we? As a historical researcher, I enjoy coming across local legends which get passed on by older folk over the years but some stories die out over the years with the passing generations.

"I have previously carried out research into the fascinating local legend and theory that the hooded executioner of Charles I, on January 30th 1649, could have been a local Leicestershire man named George Joyce of Blackfordby near Ashby de la Zouch, Leicestershire. While researching a previous book entitled, "Is Leicestershire Unlucky for the Monarchy?" I came across a story connecting Bonnie Prince Charlie with our county. I included a chapter in the book about my research as the media interest in the story, as well as the public response, convinced me that the story was worth investigating further.

"All historians have a particular period in history that they are most fascinated by. Mine is the 17th century civil war period, the republic under Oliver Cromwell and the plight of Charles I.

"After researching the life and times of Charles I, particularly his execution, I also found the adventures and life of his grandmother, Mary, Queen of Scots, equally as fascinating as the story of the escape from the Battle of Worcester in 1651, of the future Charles II.

"Mary Queen of Scots stayed in Leicester during September 1586, five months before her execution at Fotheringhay Castle in Northamptonshire in February 1587, hence her inclusion in my previous book regarding unlucky monarchs dying soon after a visit to our county.

"Both Richard III and Charles I seem to have been the most unlucky. The Stuarts seem to have had a romantic and daring history of adventure and, as I was to discover, there was another member of the family with an equally fascinating story to tell.
But the question I needed to know was, did another member of the Stuart family also visit our county? Did Bonnie Prince Charlie make a secret visit to Leicestershire?"