The Mystery of the Humber Stone
Book details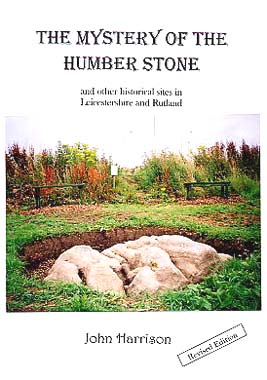 Price: £6.50
Three miles northeast of Leicester lies the only ancient stone marked on The Ordnance Survey maps of Leicestershire.

During the 1980's the Humber stone was under threat from the new Hamilton housing development and road widening. But as locals campaigned to save the stone, strange myths and legends about the stone came to light: accidents and bad luck to those who interfere with the stone; a ghostly monk seen nearby as well as a possible UFO sighting; a hideous creature with a goat's head and human body seen by a young boy; a haystack that had been placed over the stone catching fire, the author almost being struck by lightning near the stone.

Is the Humber stone on an ancient "alignment" which connects with Leicester Abbey, Kirby Muxloe castle, Beeby crossroads, Ashwell Church in Rutland, as well as other sites?

Why should we respect ancient sites and what is their relevance today?

Is the Humber stone a symbol of the community and should it, and other ancient sites, gives us a sense of recognition and awareness of our history and environment?

Is it "The Brain of Leicestershire?"

This is the mystery of the Humber stone. 50 pages, maps and colour prints.