The Battle of Willoughby Field 1648
Book details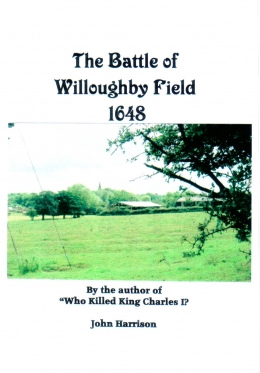 Price: £6.50
The Battle of Willoughby Field took place on July 5th 1648 in Nottinghamshire, close to the Leicestershire border. Royalist soldiers from Pontefract Castle in Yorkshire were on their way south to relieve the siege of Colchester in Essex but were halted and defeated by a combined Midlands force of Parliamentarian soldiers.

Over 130 men died in the battle as well as about 100 horses on the fields of Willoughby. Villagers were said to have watched the battle from the church steeple while the brave rector prevented Puritan soldiers from pulling down the village cross.

The author's research is not just a history book about the past but an historical adventure following in the footsteps of a daring and desperate civil war adventure to rescue King Charles I, prisoner on the Isle of Wight.

The reader is invited to follow the story of England's struggle for change from Pontefract in Yorkshire to the now quiet and peaceful Willoughby Field.