Is Leicestershire Unlucky for the Monarchy? A local legend explored
Book details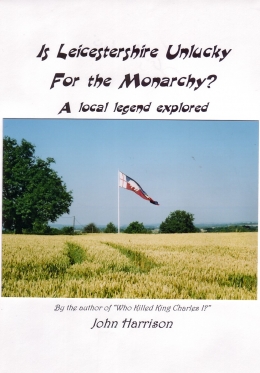 Price: £6.50
The county of Leicestershire is reputed to be an unlucky county for visiting members of the monarchy, according to local legend, but when did it start? Was it after the death of Richard IIIat Bosworth Field?

Was it after the death of Charles I and his run of bad luck associated with Leicestershire? Was his hooded executioner a man from our county?

Did Bonnie Prince Charlie enter Leicestershire before turning back to Scotland?

Why was the abdication of Edward VIII connected with Leicestershire?

Princess Diana visited our county only three months and three days before her death in Paris. Is she a victim of a curse and legend?

Is it just coincidence that at least ten members of the monarchy have died a premature death soon after visiting our county?

After researching an old legend the author now has valid reason to ask; "Is Leicestershire unlucky for the monarchy?"