Crime and Murder in Victorian Leicestershire (1981)
Book details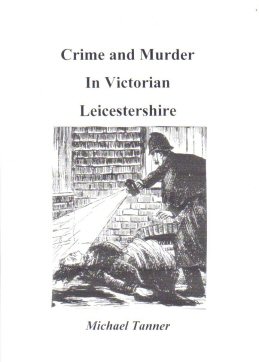 Price: £6.50
'Murder, most foul, as in the best it is', or so the ghost of Hamlet's murdered father thought. Murder is a subject that never fails to evoke macabre curiosity. Whether murdered or murderer, those involved often shared the same fate of an ignominious death.

One can't get a more intriguing story than that of Jack the Ripper. It was while giving a talk on this subject in the Summer of 1978 that someone asked if Leicestershire had experienced any similar murders. This book is the outcome of that question.

Whilst not equalling the exploits of 'Peerless' Jack the stories included in this book portray the pathos and despair that surrounds all murders. I have tried to place these murders within the framework of crime and punishment as a whole but make no scholarly claims in doing so. My aim is merely to put the period into perspective. Victorian times not only mark the beginning of Britain as we know it today but also the end of an era of savage crime and even more savage punishment. As the gibbet and pillory disappeared the constabulary and telegraph were introduced.

Although not a Victorian innovation, the newspaper perhaps captured all that was typical of the times and it is from issues of the Leicester Journal and Leicester Chronicle of the Victorian period, and other contemporary sources, that the details of these stories come.

My thanks to all who have kindly given help and advice, including: Miss Vera Ledger; Mrs Valeric Renshaw and all at Leicestershire Records Office; Miss Sheridan Brown at Newarke Houses Museum, Leicester; the staff at Bishop Street Library, Leicester; Miss Denise Ward for typing the manuscript and Mr David Ratcliffe for reading same.