Among The Broad-Arrow Men of Leicester Gaol - A Plain Account of English Prison Life (1924)
Book details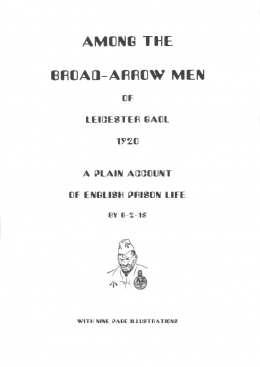 Price: £8.00
First published anonymously in 1924 by R. A. Castle, under his prison identity of Convict B-2-15. B stood for the tier he was on, 2 denoted the kind of work he was assigned and 15 was the cell. The author spent several years in Leicester Gaol from 1920 onwards, and this is his story of punishments, solitary confinement, prison food, juveniles in prison and more.

From the first chapter of the book:

"IT is my intention to give, as briefly as possible, a straightforward account of prison life in this country as I experienced it in Leicester Gaol within the last few years. Not that I am without knowledge of other similar institutions, which will probably be referred to here and there for comparison and background; but it was Leicester which was destined to make its indelible impression on my mind, until I seemed to become inseparable from its environment. Its daily round was to be stamped upon me more firmly than any other experience I had hitherto undergone.

"'Prisons are all alike', many an old gaolbird will tell us, and this is to a large extent true. After making allowances for individual preference, situation, the temperaments of the various prison officers, the routine and surroundings are identical. As human beings are of more interest than inanimate objects, so it will be of more interest to describe some of these unfortunate men and boys who wear the Broad Arrow, and to mark the effects which the prison system, with its regulations and restrictions, has upon them."

Includes nine illustrations.

Original copies of this work are few and far between, and can fetch a high price amongst collectors of antiquarian books. Now you can own a copy at an affordable price!