Railway Connections: Steam Days on the Leicester to Burton Line
Book details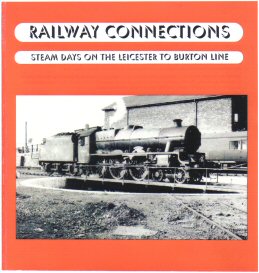 Price: £8.00
The line between Leicester and Burton-on-Trent was opened officially on 1 August 1849, one of the first developments of the still-new Midland Railway Company which itself had been formed by amalgamation with three other companies only five years before.

Connection to an ever-growing railway network opened up new markets countrywide for North West Leicestershire's rich deposits of coal which together with locally quarried granite, clay products (pipes, bricks, tiles and earthenware) plus well-used passenger services, meant the line was always a busy one.

The railway brought about great changes in the district, encouraging an increasing population to meet the needs of expanding industry. The area, indeed, owed much to its steam operated railway which, in at least one instance, can claim to have named a town. Coalville had its railway before its name!

In the 1820s only a few isolated cottages were to be found along a rough track or Long Lane which left the Ash by turnpike at Bardon to rejoin it near Ravenstone. Advances in mining techniques meant deeper pits could be sunk but first, improved transport facilities were needed. So it was that through the efforts of Whitwick coal-owner William Stenson and others that the Leicester and Swannington Railway was built.

From its West Bridge terminus in Leicester this early railway provided stations at Glenfield, Ratby, Desford, Merrylees and Bagworth which was reached in 1832. The mixed coal and passenger trains were then extended to Ashby Road (later Bardon Hill) and then Long Lane in April 1833. Platfonns were not provided in those days and, unlike others on the line, these two later places used nearby inns for station business. That at Bardon, on the former turnpike route, was on the opposite side of the road to the station and said to have been a one-time coaching inn.

At Long Lane the Railway Hotel served the same purpose. According to local businessman and historian Edgar Hawthorn, writing in the 1950s, a room to the left of the front entrance was used for the issue of tickets while a bell fixed behind the front door gave warning of an approaching train to intending passengers.

That arrangement lasted until 1848 when, the L & S Railway having been sold to the Midland, a new station was built - and named Coalville. It was a choice no doubt prompted by the title carved in the stone on the front of William Stenson's home: Coalville House. This stood on land next to today's local authority offices a few hundred yards from the railway, succumbing to demolition in the 1950s.

Further building by the Midland Railway saw the original West Bridge line by-passed from Desford. A station was provided at Kirby Muxloe before the new line curved to link up with what was to become the London, St. Pancras route and so into Leicester Midland station. Passengers continued to be carried over the West Bridge branch until 1928 but general goods and coal traffic lasted to 1966 when the line was closed after more than 130 years in service.