The History and Description of Ashby De La Zouch
Book details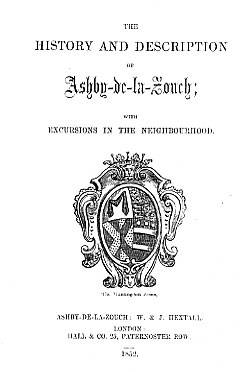 Price: £8.00
In submitting the present little Work to the notice of the public, the Publishers feel called upon to acknowledge the valuable assistance which has been rendered in producing it.

Mr James Thompson, the author of The History of Leicester.

The Manuscript History of the Hastings Family, in the Library at Donington Hall was politely offered and has been freely used.

Sir Charles Abney Hastings, Bart supplied many interesting contributions.

To W. Dewes Esq., the reader is indebted for the chapter on the Grammar School.

Matthew H. Bloxam, Esq., and the Rev. J. M. Gresley have been valuable contributors.

The excursions round Ashby are written by Edward Mammatt Esq.