The Navigation Pub and the Canal to Barrow Deep Lock. Barrow upon Soar. A History from 1794
Book details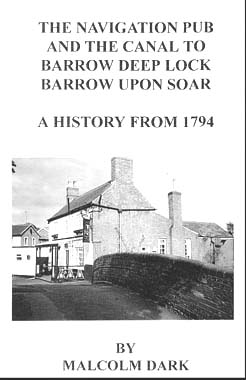 Price: £8.00
A history of how and why the canal was built to avoid the weir beyond the site of Barrow Mill and make the River Soar navigable from Loughborough to Leicester.

The canal cutting required a deep lock at the northern end to restore the water level near to Barrow Road Bridge.

Deeds of the Navigation Pub refer back to 1803, the exact date of the building is not specified but it may have been established to serve the diggers (navigators) or certainly the early boat crews who stopped there to exchange cargoes with the mill owner on the opposite bank.

Stories of lock keepers and the building of a new lock house around the previous structure, the adjacent Lock Cottage and the Victorian Sanitation Pump Station with nearby Attendant's House, combine to present a full account of life and times along this half mile stretch of the Grand Union Canal.