The History of Humphrey Perkins School
Book details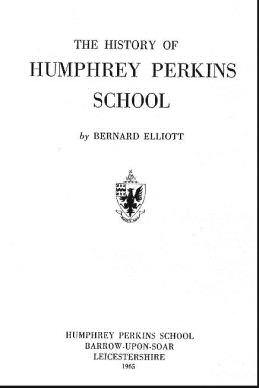 Price: £8.00
"It is fitting that a school which has served Barrow-upon-Soar and the surrounding district for so many generations should have a written record of its history.

In the course of a long and useful existence, Humphrey Perkins has produced many distinguished scholars, and it is good that present and future generations should realise how much the School has meant to the neighbourhood over the past 250 years.

Mr Bernard Elliott has undertaken the writing of this History with great enthusiasm, and we are grateful to him for devoting so much time and energy to it.

From its origin as a School for boys we learn how it became a co-educational Grammar School and later a bi-lateral School and how its numbers grew, in a comparatively short time from about 200 to over 900 pupils.

The long reign of Mr T G Wilkinson, Headmaster from 1920 to 1955, extended over the years of many of the great changes, and he made an inestimable contribution to the character and reputation of the School.

His successor, Mr C Harris (1956-60), completed the work of integration and developed the School into its resent shape.

A history such as this should serve not only as a factual record of the School's past, but also as an inspiration to the present and future generations of scholars.

[R. Dunn - Humphrey Perkins School, Barrow-upon-Soar, March 1965.]"