The Blackbrook Dam Disaster, Charnwood, Leicestershire,1799
Book details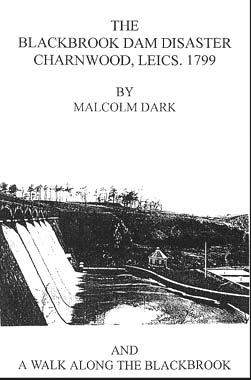 Price: £8.00
Leicestershire's greatest flooding catastrophe. The narrative covers the building of the earthworks dam to supply water for the ill-fated Charnwood Forest Canal and its collapse in February 1799, plus the subsequent events.

A new masonry dam retaining wall now occupies the exact site and this was shaken by an earthquake in 1957, much to the concern of the Borough Engineer on site at the base of the structure!

The history of the canal is recorded alongside anecdotes of the Home Guard on security duty during the Second World War and the sad tragedy of an RAF Canadian pilot who crashed into the water in 1942.

Finally, the author follows he present day route of the Blackbrook as it winds from the dam outlet to the River Soar along the path taken by the flood water as it covered the now A6 Derby Road, spreading over a mile wide to a depth of one metre.