The Civil War at Cotes Mill and other stories about the River Soar
Book details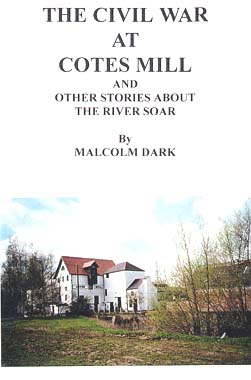 Price: £6.50
Cotes Mill stands on the outskirts of Loughborough, beyond the railway station, on the road to Nottingham. Opposing forces met there and for two days endeavoured to gain control over the extensive bridge spanning the flood plain and the River Soar.

The account relates why the troops clashed at this historic site, tracing the route of the Parliamentary General Hartopp from Newark to the outer fringes of Leicester, Mountsorrel and Cotes and the reasons for his hasty return back to Newark.

Royalist supporters attacked from their base in Loughborough and the day following Hartopp's departure, Prince Rupert came from Ashby de la Zouch on his victorious way to finally relieve Newark, much to Hartopp's failings.

In addition, there are short accounts of The Whirley Holes, The Barrow Pike 1912, and the collapse of the Bridge over the weir at Barrow-upon-Soar, 1971.