A Brief History of the Windlass
Book details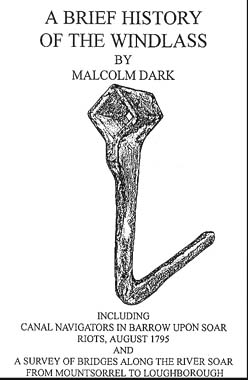 Price: £6.50
A study of the boatman's implement to operate lock mechanisms. Incorporated are stories of its other "uses", particularly as a weapon in the murder of Black Jake at Cassiobury Lock.

Reference is made to the specialist windlasses made by J H Cooke of Wheelock, Cheshire which carried his distinctive churchwarden's pipe trademark.

Also included is the short story of Barrow-upon-Soar Riot, 1795 and a Survey of Bridges crossing the River Soar between Mountsorrel and Loughborough.