History of Barrow Hall and its Residents
Book details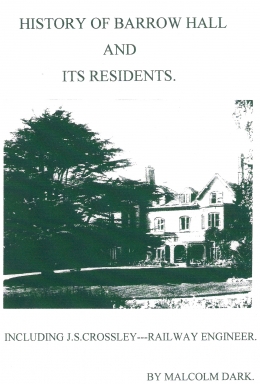 Price: £5.50
Introduction.

It was in September 1954 that I first came to the village of Barrow-upon-soar as a young student studying at Loughborough College now known as the University.

I travelled by train from my home town of Wolverhampton, changing at Birmingham and then Leicester to the local station, which in those times was situated north of the High Street bridge. This station closed in 1968 and the access driveway is now used as a Car Park.

The village was quite small, such a change from the busy industrial midlands town, with a very successful football team, that I had left for a while.

Carrying all my luggage caused some difficulty, a suitcase, drawing board, tool chest and a bicycle all taken up towards Jerusalem Island. There to my relief, my destination at Barrow Hall was immediately to the right.

There were several large residences in the centre of the village namely Cliffe House, Falstaff, The Mount, Southfields (later demolished) and what is now The Hunting Lodge a little further down Sileby Road. All the others are still standing and under full occupation, Cliffe House is undergoing extensive modernization.

Alas, my residence as a student for the coming academic year, a fine imposing building with outhouses and eight acres of land did not survive beyond the early 1970's.

The history of Barrow House, known to myself as Barrow Hall for residential students, now follows to record the times of it's importance in the village history and to the memory of the people who lived there.