All Lands on Dek: A Year in the Life of a Gardener's Boy, 1942
Book details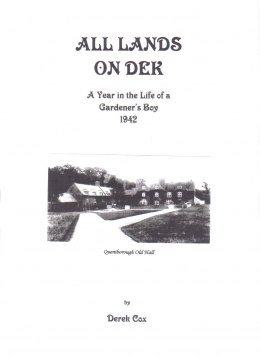 Price: £8.00
From the Introduction by the author:

"This book is not intended as an autobiography, but rather as a chapter out of the life of a boy who, due to his dislike of school, had the opportunity to start life as a gardener as soon as he was fourteen years old. This developed into such a passion for plants that eventually, together with a friend, Geoff Thompson and his brother Bob, lead to the starting of Goscote Nurseries Ltd, Cossington, Leicestershire.
I have broadcast on Radio Leicester's "Down to Earth" gardening programme for the last forty years and appeared on Central Television's "Garden Time" for six years. I have also written articles for many national garden newspapers and magazines.
The village of Queniborough does exist and its main street, together with its beautiful church, still resembles that of sixty years ago. It was also bombed during 1940.

"The Old Hall still stands in its own grounds but most of the stables, tack house and greenhouses have long since been demolished. When I last saw the garden, it seemed to me to be much smaller than the garden of my memories. Mr Tebbut was the head gardener at the hall and Pat, the under-gardener was the prop, without whom, a mischievous young boy would not have survived his first year as a gardener.

"During 1942 when I worked at the hall it was used as a hostel to house girls who seemed to be in charge of the large ordnance depot on Melton Road, Queniborough and Rearsby. The depot was demolished in the early 1960s and the new village of East Goscote built on its site.

"My old pal Bill Knight who was also a gardener, passed away some years ago but there is no doubt, he would have been looking over my shoulder as I write, having a jolly good laugh.

"Most of the people named in this book have long since departed this world but their memories linger on. Others are but fictitious names and resemble no one either living or dead.

"As I have always been a dreamer some of the contents of this book are but dreams but as a great deal did actually happen, I shall leave you to sort out the facts from the fiction.

"There is no doubt that many of you will find it difficult to understand my boyhood Leicestershire slang; to help you there is a list of some of the words at the rear of the book.

"With thanks to my niece, Kate Hill, without whom you would not have understood my terrible English grammar."