The Parish Of All Saints Thorpe Acre
Book details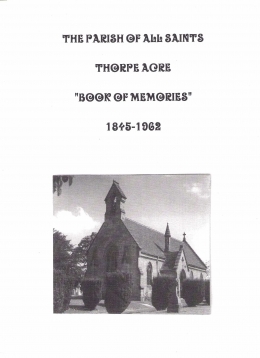 Price: £6.50
It was originally intended that this should be a "BOOK OF
of A11 Saints Church. THORPE ACRE CUM DISHLEY
from the date of the Consecration in 1845. It is the wish of the present Vicar, Rec. W. D. M. STURDY (M.A.) that as we have access to so much information regarding the old Church at DISHLEY where the congregation of THORPE ACRE previously worshipped, that this should be related here.

*DISHLEY CUM THORPE ACRE 1½-2 miles W.N.W. of Loughborough formed a parish within Loughborough Union and County Court district. AMBROSE LISLE MARCH PHILLIPS de LISLE Esq. was Lord of the Manors and owner of most of the soil and is intersected by a rivulet and bounded on the East by the RIVER SOAR, the acreage of which was 890 acres. DISHLEY is on the north side of the rivulet, opposite THORPE ACRE and was nearly all in one farm of 500 acres which was long occupied by a celebrated Stockbreeder, the late ROBERT BAKEWELL. After that the farm was under the tenure of Mr. C. BOSWORTH, another spirited stockbreeder and there is upon it an ancient barn 50 yards long and 15 yards broad, formerly belonging to GARENDON ABBEY which stood in the adjoining park of the Lord of the Manor.*

The Church at DISHLEY "ALL SAINTS" was closed for services around the year 1845 (as per Church expenses book of that date a service was held on 11th May and then a Communion Service was held on the 10th August).*

The Rev. Edward Thomas March PHILLIPS, Chancellor of the
Diocese of Gloucester and 50 years Rector of HATHERN was the last incumbent of Al1 Saints, DISHLEY.

Extract from Nicolls History of Leicestershire Volume 3 Part 2
on Page 768.

DISHLEY Church was dedicated to All Saints, with low embattled tower in which was one bell, a nave, chancel and North porch.

ln the year 1220 DISHLEY was under the patronage of the Abbot of Leicester, the rector was instituted by the Bishop of Lincoln.

In 1590 the Church was belonging to the Abbey of GARENDON and was said to be a donative. In 1650, the curacy of DISHLEY was returned to be worth £6 13s. 4d.

DISHLEY was in 1716 returned on oath to be of no value, except the churchyard.

1 * This information is taken from Whitens Gazetteer and Directory of Counties of Leicester dated 1877.