Harry: Harry Preston, Life and Times of a Local Man (recollections from 1903-1936)
Book details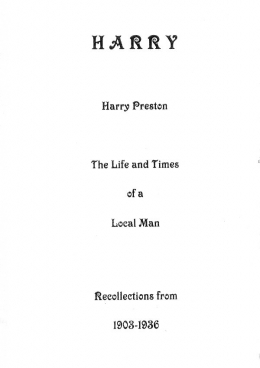 Price: £6.50
Born in 1903 in Normanton Hills, near Sutton Bonnington, Harry Preston lived in and around Loughborough all his life. Compiled by Louie Carr from Harry's diaries and notes, this tells the story of his early life from his birth up to 1936.

As well of telling the story of a local man who was the twelfth child fo a family of sixteen, and of his treatment at the hands of his domineering mother, this book gives a detailed snapshot of life in Loughborough in the early part of the 20th Century and through the First World War. It is a fascinating read for anyone familiar with Loughborough, referencing many local landmarks both familiar and long-forgotten.

The book contains some period illustrations as well as a comprehensive index to Loughborough people and places mentioned within; your parents or grandparents may have met Harry or his family, and be mentioned!