Bygone Sileby: Historical Facts About The Village Part 2
Book details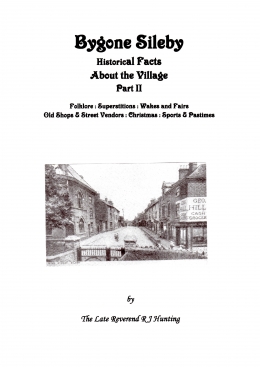 Price: £8.00
We are indebted to the late Reverend R. J. Hunting for this most in-depth account of Sileby's history, reprinted here to enable the reader to appreciate the history of the village as the original author would have wished.

The original booklets were written by Rev. Hunting in the late 1960s/early 1970s. There were several booklets which he produced periodically. We have taken some of these as they were originally written, and used them to form one very interesting and informative book.

Chapters include:
Folklore: Superstitions: Wakes and Fairs: Old Shops & Street Vendors: Christmas: Sports & Pastimes.