Sileby 1800s to 1900s
Book details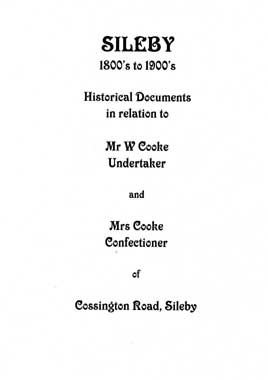 Price: £6.50
In 1966, at the age of eleven years, I took on my first paid job. My father had signed a lease on a rather run-down property on Cossington Road, Sileby. The building was to be used as an Engineering Factory but required a major clean up to make it habitable. My first task was to clear an upstairs workshop, which was littered with remnants from a former era.

The previous owner, a Mr Cooke, had been an Undertaker and Joiner. His wife had been a music teacher and ran a small confectionery shop at the front of the property.

Whilst clearing out the workshop, a small hatch in an end wall just below ceiling level intrigued me - I climbed up to investigate. The door was just large enough for an eleven year old to squeeze through. The space beyond was packed with white sheets, which I presumed were coffin shrouds, leaving only enough space to crawl through on my hands and knees, but I could see a larger attic beyond. Once through to the larger space, I could stand up and a roof light enabled me to see an attic containing nothing but straw from years of birds' nests but in one corner there was a pile of old papers pierced by an old-fashioned bill spike.

My attention was drawn to the stamps attached to many of the documents. Thinking they could be valuable, I brought them out to investigate.

Today, 35 years later, I can still remember the evening my family sat around the dining room table sorting out the documents into type and date order, reading out interesting pieces to each other as we sorted through. It soon became apparent we were looking into the life of the Cooke family and Sileby village in the late 1890's.

This book contains a selection of those documents.