After Alice - A Family In Melton Mowbray
Book details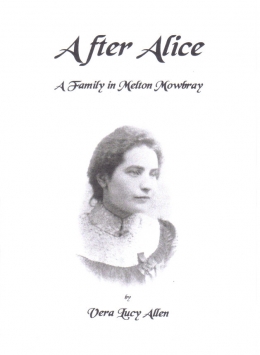 Price: £8.00
From the Foreword by Linda Pritchett, daughter of the author:

"Alice Elizabeth Brown was my maternal grandmother. She was born on July 23rd 1881 in the village of Stotfold, Bedfordshire to Elizabeth Brown, an unmarried, illiterate straw-cutter. Within a year of Alice's birth, Elizabeth had married Charles Auburn the eldest son of the local straw dealer who may, or may not, have been Alice's natural father. Alice was taken to live with them however and assumed the name of Auburn. After leaving school Alice went into service and became housemaid to a schoolmaster in West Bridgeford, Nottingham in the early 1900s. Alice's visits to Melton Mowbray during this time to visit her Aunt Mary brought her into contact with my grandfather Jesse Alien, a young railway porter from Maidwell, Northamptonshire. He was lodging with Aunt Mary and her husband, Solomon Gutteridge, at the Railway Cottages on Scalford Road, Melton Mowbray. Alice was obviously a quite attractive young lady and would, I imagine, soon catch the eye of a young man. It was from the Railway Cottages that Jesse and Alice married on December 26th 1903. Their marriage was witnessed by Jesse's father, who had travelled up from Maidwell for the ceremony, and by Solomon Gutteridge, Alice's uncle by marriage and Jesse's landlord.

"The couple set up home in Salisbury Avenue, Melton Mowbray, and the following September Alice gave birth to her first child, whom they called Jessie after her father. The following year Alice gave birth to twins, and Jessie was taken to Stotfold to live with an aunt and uncle, never to return to her family home. Over the next fifteen years Alice and Jesse moved to Charlotte Street and had eight further children, although two died in infancy. Then, on December 5th 1921, Alice died in childbirth having a second set of twins, only one of which survived. She was 40 years old and left behind the surviving baby, two little girls under the age of five - three boys and a girl of school age, and teenage twins who had recently started work The baby boy was adopted and went to live in Loughborough, and her eldest daughter, Madge (one of her first set of twins), was obliged to give up work to become 'Mum' to the younger children and housekeeper for her father.

"Not remembering their own mother, the younger children looked to Madge as her substitute. Madge's death from diphtheria at a young age obviously had a more devastating effect on them than did the death of Alice, whom they were too young to remember.

"My mother, Vera, had just had her fourth birthday when Alice died, and this is the story of her life, 'After Alice', written by her a few years before she died. It is a snapshot of working class family life between the First and Second World Wars, and the experience of growing up during that time."