Fifty Years of Motorbuses: 1924-1974
Book details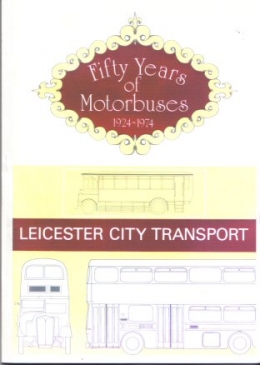 Price: £6.50
First published in 1974 by Leicester City Transport, this book commemorates 50 years of their motorbus operation. As well as a history of buses in Leicester, there are photographs of vehicles over the years and of the depot at Abbey Park.

For the bus enthusiast, there are details of every vehicle operated between 1924 and 1974, from the first Tilling Stevens TS6s up to the double- and single-deck Metro Scania buses which were the newest in the fleet at the time of publication. Each batch is listed, with chassis and bodywork details, a representative photograph and fleet, registration and chassis numbersof each bus.

This book, an expression of civic pride as much as anything else, is made poignant by the fact that Leicester City Transport did not survive to run buses for another fifty years. In 1986 a limited company was formed to take over the city council's transport department, and this company was subsequently sold to First Group. Leicester's buses are now indistinguishable from those of the many other cities and towns where First operate, and the once-proud Abbey Park depot is no more.