From Mine To Ministry: The Life And Times Of Thomas Burt MP, the First Miner Elected To Parliament
Book details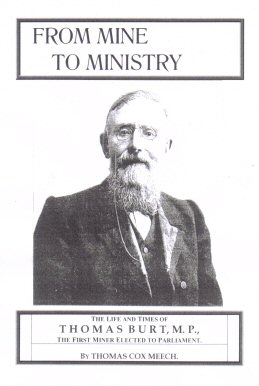 Price: £8.00
In these days when bulky volumes are inconvenient it is necessary to so compress one's material that the production of a book may be undertaken at such a cost as will enable it to be sold at a moderate price. Something of the life of Mr. Thomas Burt should be known not only to the well-to-do and to those of his friends in the North among the miners - who would regard no sum, within the bounds of reason, too large to pay for a record of his work - but also by the younger and less opulent workers, to whom such a man's life may prove an inspiration.

The difficulty in preparing a book of this kind has been not what to put in, but what to leave out. Mr. Burt's life story is so fascinating in every detail that one would like to tell it almost day by day, from the cradle onwards. The main purpose I have kept in view is to show how character and sincerity of purpose may carry a man through from a humble home to a great position in public life; and I have also endeavoured to remind the younger men among us of what we owe to those early pioneers, of whom Thomas Burt was a brilliant example.

How to deal with Mr. Burt himself has been the greatest difficulty. Kind, courteous, and considerate, full of a desire to help one, his natural modesty prevents him talking about himself, and the facts here set down are gathered from public records. The impressions are entirely gleaned from others. The high importance of the work accomplished by Mr. Burt is also emphasised by those who have watched his career. In presenting this small work to the public I shall linger for a few days in the shadows of Westminster till Mr. Burt has passed by to escape the gentle reproof which I fear will be called forth by the setting down in plain print of his great work and the many tributes to his lovable character.