Brighter Blackout Book
Book details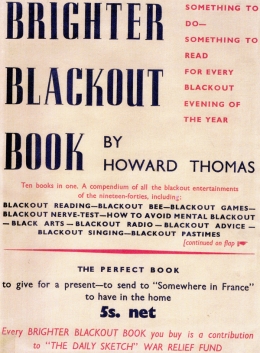 Price: £22.00
True 1940's Nostalgia

CONTENTS
FOREWORD by The Lady Kemsley
INTRODUCTION by Howard Thomas

SECTION 1. BLACKOUT READING
Book trailer; ''Blackout'' radio play; What the Celebrities read in a Blackout; One-act play by Edgar Wallace.

SECTION 2. BLACKOUT BEE
The best of the B.B.C. parlour games and the star American programme "Information, Please."

SECTION 3. BLACKOUT GAMES
Games to be played in the dark; get-together games; fortune-telling and card games.

SECTION 4. BLACKOUT NERVE TEST
(Not For the nervous)
''The Pit and the Pendulum'' Edgar Man Poe.
"The Black Cat'' Edgar Allan Poe.

SECTION 5. HOW TO AVOID MENTAL BLACKOUT
Puzzles, crosswords, intelligence tests and brain teasers.

SECTION 6. BLACK ARTS
Your character revealed by your face, your dreams, your horoscope, your hands, your writing.

SECTION 7. BLACKOUT RADIO
Reginald Dixon's "Famous People call the Tune"; C. H. Middleton; Radio Quiz; Professor John Hilton; Charles B. Cochran's radio biography.

SECTION 8. BLACKOUT SING-SONG
Songs to sing on blackout evenings.

SECTION 9. BLACKOUT PASTIMES
Toy-making; ideas in coloured felt and oilcloth; lampshades; raffia work; decorating wood and pottery; making masks.

Donation to Rainbows Hospice from the sales of this book.

Pages:282

Postage and Packaging Included.