The History of the Mysterious Papillon Hall (1977)
Book details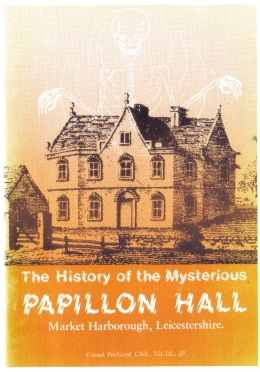 Price: £6.50
This is a reprint of a fascinating book, first published in 1977 and now quite hard to get hold of, which tells the story of the hauntings of Papillon Hall near Lubenham up until its demolition in 1950. One former former occupant, known locally as 'Old Pamp', was said to be in league with the devil!

From the Foreword to the book:

"On the right of the main Market Harborough to Lutterworth Road, about a mile west of Lubenham, is the site of Papillon Hall - demolished in 1950 - concerning which the most curious tales are told and many recorded - of Ghosts, Curses and things that go bump in the night.

"Considerable quantities of information have been made available by Col. David Papillon from the family papers, and in his possession at Olivers, near Colchester, are the shoes and one of the pattens, which I have seen and handled, as also a picture of his forebear, the second David Papillon, who lived 1691-1763, and who terrified the neighbourhood and was known as Pamp, old Pamp or Lord Pamp. I have also had the benefit of the help of Mrs. Frank Bellville, Mrs. Whetstone - Frank's niece, who hunted from Papillon, Mrs. Beck who knew Papillon from about 1903 — she is now over 82 years of age and her son-in-law was a G.I. during the 1939 War, a Member of the 82 U.S. Airborne Division. He was stationed at Papillon. I am grateful for all this firsthand information she gave me about the happenings during the last War. I am also grateful to Mr. James who was employed by Captain Bellville, the last owner, in 1914, and Mr. G. Atherton, his butler from 1935/38, as well as Mr. Len Beeney whose family have worked for the Bellvilies for 145 years.

"Having distilled all this information, it seems to me that the following story is likely to be as near the truth as one can get."