Coventry Old And New
Book details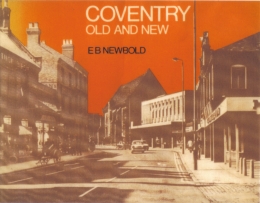 Price: £8.00
The late Enrnie Bernard Newbold was a reporter on the Coventry Evening Telegraph (later The Coventry Telegraph) for a number of years, and became known as 'Mr. Coventry'. This publication is a comparison of old and scenes in Coventry.

From the Foreword by G. W. Sheridan, the then Lord Mayor of Coventry:

"This is an appropriate time to publish a souvenir-type book of pictures about old and new Coventry, and I welcome it. It coincides with the disbandment, under local government direction, of Coventry City Council, which has had the most momentous tasks of reshaping Coventry following the wartime destruction. It is the closing of an era, and I write this foreword towards the end of my year of office as the last Lord Mayor under the old regime, and as the first Lord Mayor of the new district council.

"A great deal has been achieved, and Mr. Newbold as municipal correspondent of the Coventry Evening Telegraph has intimate knowledge of it. He is also a Coventry man, and remembers how the city looked pre-war. I am very pleased that he has undertaken the selection of pictures, therefore, showing, side by side, the old and the new. The book will bring back memories for older people, and will give the younger generation, who did not know it, a glimpse of those old days."