Glimpses of the Brush
Book details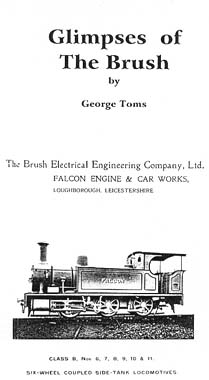 Price: £6.50
In September 1991 the quarterly newspaper, Brush Electrical Machines News, commenced an historical series of articles called "Glimpses of the Past", dealing with a variety of past events related to the Brush companies and their predecessors.

On a number of occasions readers have suggested that the author should collect them together as a booklet for a wider readership. Eventually he took heed, so here are some of them, plus one that was not included.

The sheer historical wealth and variety of the many aspects of Brush history may never be fully recorded, but it is hoped that these glimpses will give readers the benefit of what can only be described as a scratching of the surface. Over the years, various people at the Falcon Works have been most helpful in the author's searches for original material. To these people, the author extends his thanks.