Within An Open Book
Book details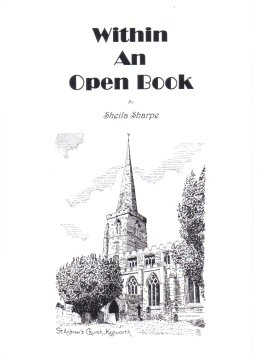 Price: £10.00
Take a trip down memory lane, through real lives…

The author is a resident of Kegworth, which was her maternal Grandparents' birthplace, to which she came to live at the age of fifteen. The book is an account of her life, and her Grandparents, other maternal ancestors, and Kegworth residents.

The book contains many stories centred around Kegworth, together with Family Trees, and excerpts from Diseworth and Kegworth Parish Church Registers, and Keg\vorth old School Registers.

Illustrations include many photographs from the author's private collection, as well as some from Kegworth Museum archives, line drawings within the text are by the author, and additional drawings by Kegworth resident Chris Kendall.

Some comments from those who have read the book.....
"Some of the stories made me laugh out loud"
"I cried and laughed"
"the Lowsley stories are a real 'hoot'."
"A real labour of love"
"Delighted with the book - fascinating"