Motorcycle Designer Valentine Page 1892-1978
Book details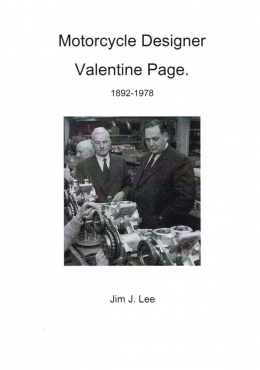 Price: £8.00

Motorcycle Designer Valentine Page. 1892-1978.
Chapter 1

In the Beginning.
It is appropriate to mention a brief history of the Cycle Components Manufacturing Company Limited. This resulted from the merger of five Birmingham firms involved in the manufacture of bicycle components. These were R. F Hall Manufacturing Company Limited of Sparkbrook, being famous for its Crabbe-type brakes, Thomas Warwick & Sons Limited in Aston, making wheel rims, Hudson &
Co Limited in Selly Oak, Westwood Wheel Company Limited, Oak Foundry,
Midland Tube and Forging Limited all became part of a group registered on March 19th 1894 whose core business was making the many and varied parts required for the manufacture of bicycles.
The name Ariel had become part of the group's activities by 1898. Scotsman Charles Thomas Brock Sangster had joined the firm in 1895. He had cycled to Birmingham adjust 23 years of age to seek his fortune in the booming bicycle industry. By 1898 he was Cycle Components General Manager, and now we had Ariel cars, Ariel bicycles, Ariel motorcycles, Fleet bicycles and motorcycles all being marketed by the parent company.
Cycle Components Manufacturing Company Limited had a factory occupying some 10 acres of land between The Bristol Road and New Street to Harborne railway line employing 2000 people. Charles T. B. Sangster had three sons. John Young, Frederick Charles and Harvey. Unfortunately Frederick Charles was killed in action during World War 1 whilst fighting with The Royal Warwickshire Regiment during 1916. John Young Sangster or Jack as he was usually known, and his brother Harvey both joined their father as executives with Cycle Components. It was the Sangsters who recruited Valentine Page as Ariel's Chief Designer in 1925.