John Bird 1826-1894 and his son, Montague Bertie Bird, 1869-1942, Rectors of St Mary's Church, Walton on the Wolds. Illustrated with photographs and drawings
Book details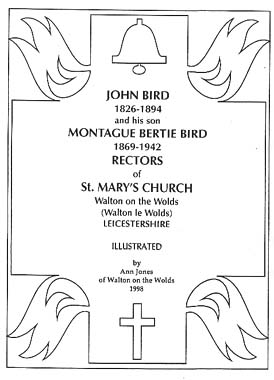 Price: £14.00
A few of the photographs and an outline of John Bird and his son, Montague, affectionately known as Monty Bird, were highly respected and loved by the villagers.

Because they both stamped their own mark on the village in different ways during their time as Rectors, the author feels they are worthy of a publication of their own.

It is true to say they did more than their fair share of duty than any other Rector of Walton-on-the-Wolds.