The History of St. Mary in the Elms Church 1338 to 2003
Book details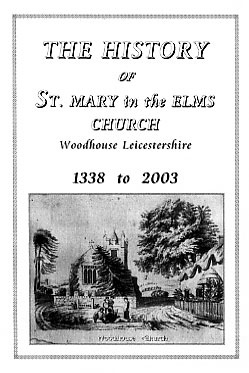 Price: £6.50
This book has been compiled from the following sources of information:

John Nichols' History of Leicestershire Vol 1 part 1. Also including the earlier narrative by William Burton
Woodhouse and Woodhouse Eaves by Reverend R P Rankin
The Woodhouse Echo by Margot Brookman
A Brief History of Beaumanor by Pamela Drinkall
Leicestershire by W G Hoskins
A Brief History of St. Mary in the Elms Old Woodhouse by Doreen Fairburn, with later additions by Bernard Bryan

Additional information dating from 1923 to 2002 was accumulated from writings and Church records.

All the above sources and information supplied have been edited together with additional research and a collection of images and arranged into book form by the author.